The next day that it hits 85 degrees I'm going to buy some lucious strawberries and have this drink in the morning, afternoon, and evening!
Ingredients:
1 (12 fluid ounce) can frozen lemonade concentrate, thawed
4 1/2 cups water
1 (10 ounce) package frozen strawberries, partially thawed
In a large pitcher, mix together lemonade concentrate and water. Stir in strawberries.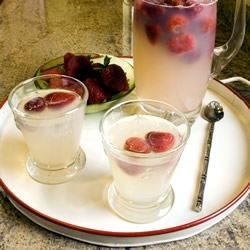 Credit:
allrecipes.com